Find a Quiz
The first step is to locate a quiz venue and scan the visible QR code on the venue's screens. Alternatively, you can enter the game code found at the lower end of the welcome screen. If attending in person is not your plan, you can also play online using Game Pass
Sign in
After scanning the QR code, entering the game URL and code, or purchasing a Game Pass, you'll encounter a screen like this. It will request a few details, such as your team name and venue location, and may also ask for your email or mobile number. Once these details are entered, simply click 'Join' and await the game.
If it's a live game about to start, you'll see a countdown clock indicating the exact start time. During the game, you may also see and hear the quiz host, who is live-streamed to your device, providing an immersive experience. The host will do their best to engage with the audience by mentioning team names occasionally. Any banter from the host should be taken in a fun and light-hearted spirit, with no intention to shame or embarrass anyone.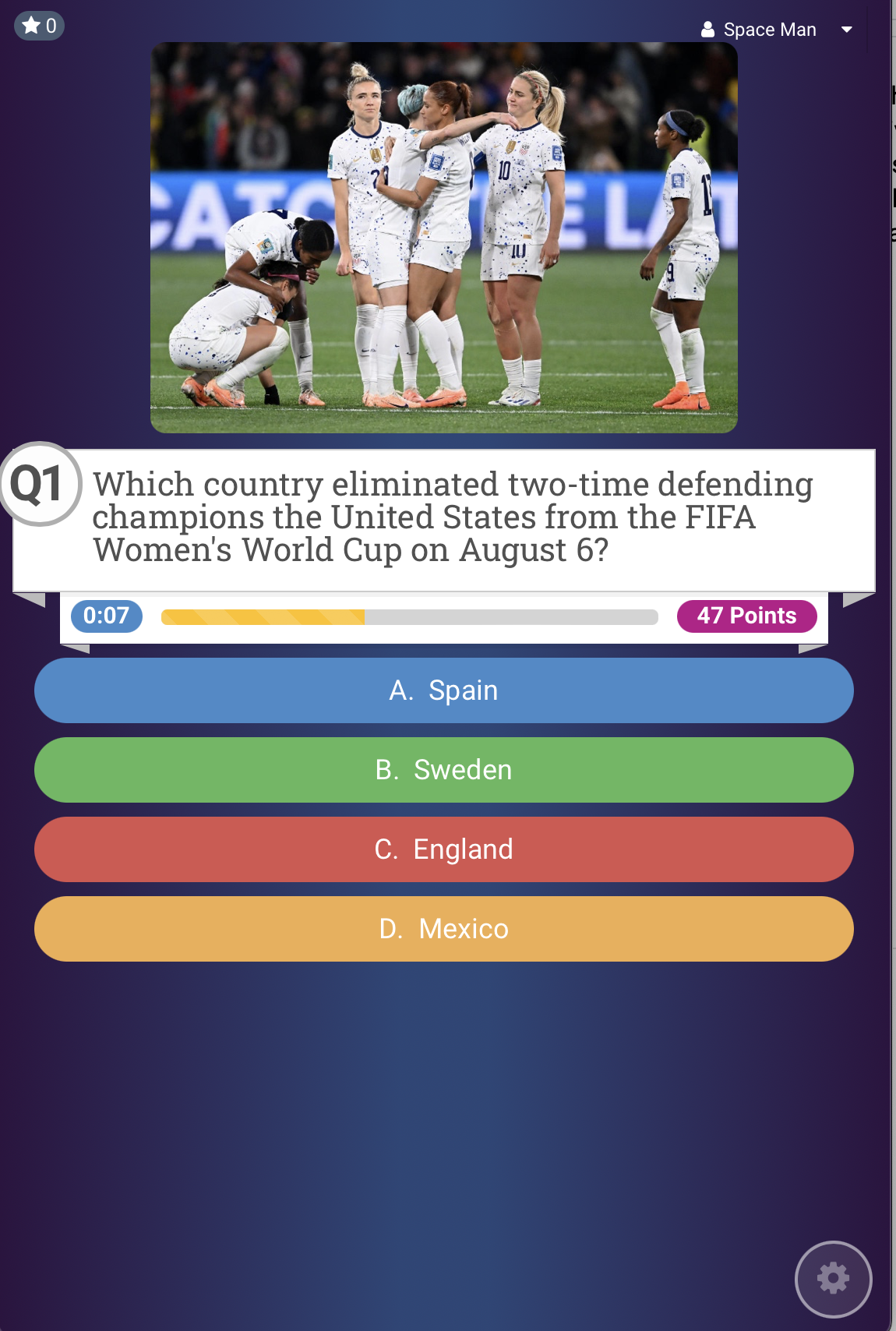 Game Play
Throughout the game on your device, you'll find all the essential information readily available to tackle each quiz question effectively. Each question is presented with utmost clarity, providing you with the question itself, a set of multiple-choice options if applicable, a visible countdown timer indicating the remaining time to submit your answer, and the points value associated with that question. This user-friendly interface ensures you have all the necessary details at your fingertips, making your quiz experience seamless and enjoyable.
Before diving into the quiz questions, it's highly advisable to lend your full attention to the host at the outset of the game. The host plays a pivotal role in setting the stage for your quiz journey. During this introductory phase, they will not only welcome you but also explain the rules of the game and clarify how points are awarded. Paying heed to this initial guidance ensures that you're well-prepared and ready to navigate the quiz confidently.
In some instances, you'll encounter questions that require direct answers without the assistance of multiple-choice options. In such cases, the host understands that small errors like typos or minor spelling variations can occur. As a result, they strive to be accommodating by accepting answers that closely match the correct response. This flexibility aims to ensure fairness and foster an inclusive and enjoyable quiz atmosphere for all participants.
Our quiz questions are designed to offer a diverse and engaging experience. You'll encounter a variety of formats, including picture-based questions, numerical puzzles, questions based on audio clips, and even those that involve watching short video clips. This diversity keeps the game fresh and exciting, catering to a wide range of interests and knowledge areas.
One key aspect to remember is that, in specific quizzes, points may decrease as the countdown timer continues to run. In these scenarios, quick thinking and swift decision-making can be advantageous. If you're confident in your answer and the timer is ticking down, it can be beneficial to submit your response promptly to maximize your potential points. However, accuracy remains paramount; only correct answers contribute to your score.
In summary, your quiz experience is designed to be informative, engaging, and fun. Pay attention to the provided information, adapt to various question formats, and keep an eye on the timer to make the most of your quiz adventure. Enjoy the challenge, and may the best team win
Other Features
At Live Quizzing, we take pride in offering an array of captivating features and thrilling games, and we're eager for you to immerse yourself in these experiences firsthand when you become a part of our quiz community. Our platform is brimming with excitement, and one of the standout features is our real-time scoreboard, which adds an extra layer of competitiveness and fun to every quiz session. As you answer questions and engage with other quizzers, you can watch your performance unfold on the scoreboard, creating a dynamic and engaging atmosphere.
But that's not all – we have even more in store for you. We're thrilled to unveil our ambitious plan to broaden our horizons and foster connections among local quizzers, bringing players from diverse venues together in what we affectionately refer to as the 'Battle of the Bars.' In this innovative initiative, venues that have enthusiastically joined hands with us will not only participate in our quizzes but also have the chance to feature their very own personalized scoreboards on our platform. It's a fantastic opportunity to showcase your venue's quiz prowess, compete with others, and engage in friendly rivalry.
Curious about how to make this exciting venture a reality? We're here to help. Our dedicated team is ready to discuss how easy and seamless it is to organize this initiative for your venue. We understand the importance of providing comprehensive support, and that's why we offer all the marketing materials and assistance you need to get your venue up and running smoothly. From promotional materials to technical guidance, we've got you covered every step of the way.
Don't miss out on the chance to be part of this thrilling journey. Contact us today to explore this opportunity further, and together, let's make 'Battle of the Bars' a memorable and exciting addition to your venue's offerings. Join us in bringing quizzing enthusiasts from near and far together for unforgettable quiz nights.